The International CES 2012 held at Las Vegas, Nevada, is owned and produced by the Consumer Electronics Association (CEA), the preeminent trade association promoting growth in the $186 billion U.S. consumer technology industry.
CEA represents more than 2,000 corporate members involved in the design, development, manufacturing, distribution and integration of consumer electronics products.The International CES features productsÔÇöand the companies that create themÔÇöfrom 15 consumer technology markets.Every year, the most cutting-edge innovations can be seen in one place and that is at the CONSUMER ELECTRONICS SHOW.
Some of the hottest gadgets that were showcased this year were:
1. The Huawei Ascend P1 S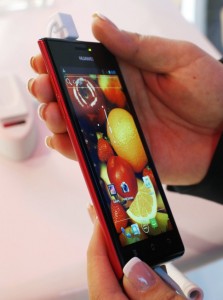 Huawei Ascend P1 S is an Android based smartphone that features 3G, 4.3 Super AMOLED capacitive touchscreen, 8 MP camera, Wi-Fi, GPS, etc. According to Huawei it is the world's thinnest smartphone at 6.68mm and will be available later this year.
2. The Motorola DROID 4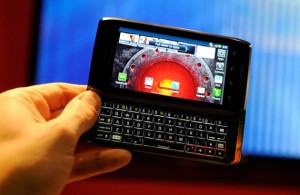 The Motorola DROID 4 comes to Verizon featuring LTE radio and a full-QWERTY keyboard. The handset features a 1.2GHz dual core processor, 1GB of RAM,16GB of storage, 8-megapixel camera and an additional one for video calls, a 4-inch qHD display, Bluetooth, Wi-Fi, GPS and HDMI port.
3. Toshiba Excite EX10 Android Tablet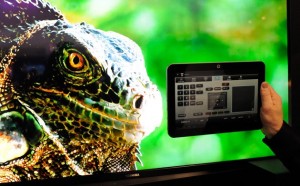 A Toshiba Excite EX10 Android tablet running the Tablet Remote App Capable (TRAC) technology is displayed in front of a Toshiba 55-inch L7200 Series TV at the 2012 International Consumer Electronics Show at the Las Vegas Convention Center. TRAC will be available in Spring 2012 and uses remote codes built into the television so you can wirelessly control anything connected to a TV with the tablet using infrared signals.
4. Lenovo K800
Intel's first Medfield smartphone is Lenovo K800,which was revealed at the CES 2012 as the first Intel-powered smartphone (boasting Android 4.0, no less). There's a 4.5-inch 720p display and rear camera with dual-LED flash but outside of a tip that it'll be shipping to China Unicom in Q2 of this year.
5. Nokia Lumia 900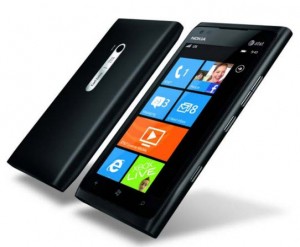 Nokia Lumia 900 is a Windows based smartphone that features Large 4.3 inch touchscreen display, Windows Tango OS, Powerful processor, High speed Internet connectivity, Wi-Fi, GPS, NFC.
6. LG Z330 Ultrabook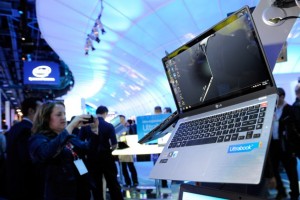 LG has revealed its own attempt at the ultrabook segment, the LG Xnote Z330, with IntelÔÇÖs Core i5 and i7 processors and more than a hint of AppleÔÇÖs MacBook Air to the styling. The Z330 is 14.7mm thick and 1.21kg, and can run for over 6hrs on a single charge.Inside thereÔÇÖs a choice of IntelÔÇÖs Core i5-2467M or Core i7-2637M processors, paired with 4GB of RAM and a choice of 120GB SATA 6Gbps SSD or a 256GB SATA 3Gbps SSD. Graphics are courtesy of IntelÔÇÖs HD GPU, while connectivity includes WiFi b/g/n, Bluetooth 3.0+HS, Intel WIDI, USB 3.0 and a microSD card reader.
7. The Motorola Xyboard 10.1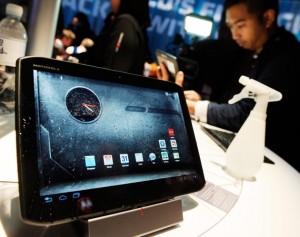 The Motorola Xyboard 10.1 is not quite enough tablet, for too much money. While it's much more handsome than the Xoom tablet it replaces, the Xyboard can't overcome its high price. With a dual-core processor bumped up to 1.2GHz and an ample 1GB of RAM, the Xyboard zooms along, hampered only by the addition of Moto's Blurring of the Honeycomb OS.Perhaps to add that extra value oomph to the Xyboard, Motorola's bundled a stylus into the box. But don't let that get your hopes up, the functionality reeks of last minute add-on.