Learning a new programming skill has changed a lot from the old days. Now you don't need to search and find a local tutor in your area to determine a particular programming skill; you do not need to depend on books reading and then practicing the code by writing yourself. Nowadays coding skills is higher in demand, but these courses are costly, time taking and not flexible which many of working person demands. If you see current trend in coding and programming industry you will notice that technology is changing quickly and many new frameworks, libraries, and tools are introduced often; many developers must learn these coding skills to keep themselves updated in the industry with the technology for higher paying jobs. This has left room for online learning. You can now learn to code from interactive online programming courses available on listed websites below.
1. Udemy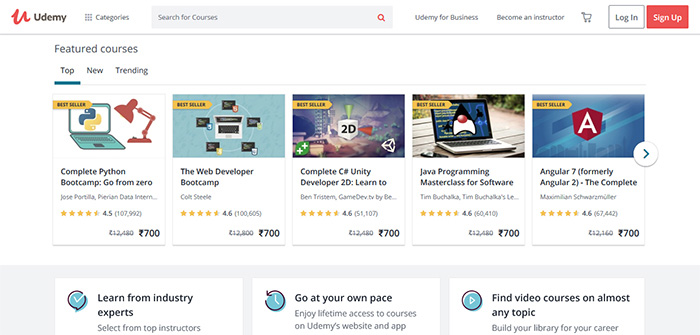 Udemy is one of the most popular websites to learn any skill through video tutorials from lots of instructors. No doubt, It is also full of online computer courses for any programming language (PHP, HTML, JavaScript, CSS, Java, C#, C++, Clouser, Swift, Golang, etc.) for beginners, intermediate and experts. The good thing about Udemy is that there are plenty of courses which you can take for free to learn programming.
2. Treehouse
Starting a career in computer programming can be achieved by learning coding skills from interactive online courses from Treehouse. As of writing this article they have 286 courses in more than 20 topics and cover most of the modern coding courses on popular programming skill like Android, IOS, WordPress, PHP, JavaScript, etc. They have more than 1000 videos which are created by skilled instructors on several popular topics such as web design and coding. They have loads of practice lessons, which helps you to sharpen your coding skills.
3. Coursera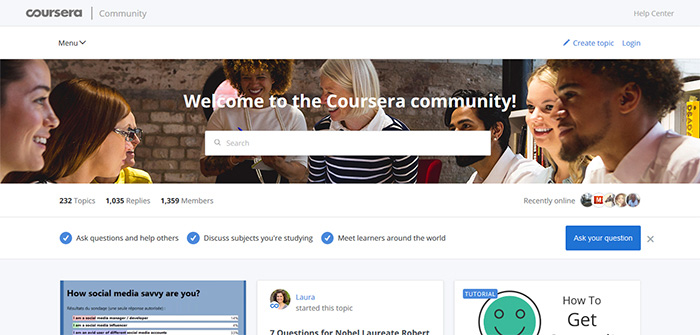 Coursera is one of the popular choices among students when it comes to learning online. It provides easy access to the best courses, partnering with the world's most popular universities and educational institutions to offer courses online. It has a good amount of interactive pre-recorded videos, quizzes & projects to choose from. These courses contain recorded video lectures, auto-graded & peer reviewed assignments, with forums for discussions. On completing a course, students receive an electronic Course Certificate. When it comes to learning any programming or coding language, The Coursera has courses from the world's best instructor. Browse the programming courses for Python, C#, Java, PHP, HTML, JavaScript or you can learn skills like mobile, web and game development.
4. edX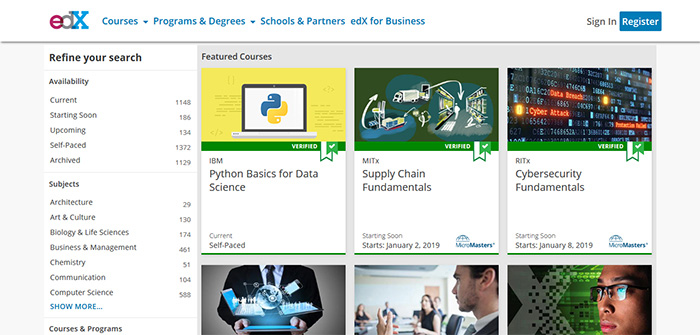 Just like Coursera, edX has also partnered with the world's top universities to provide world-class online courses. They have students from all corner of the world and provide courses in most of the department including programming. It has plenty of free courses for a popular programming language like Java, SQL, C, and Python. You can get a certificate on completion of courses which are signed by the instructor with the logo of the institution; this increases your job chances. Click below to visit their website or browse their programming courses.
5. Lynda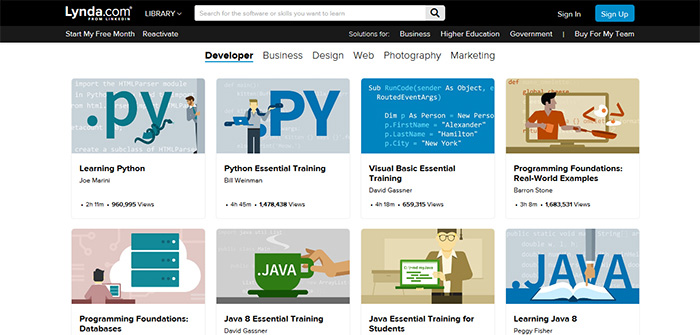 Owned by LinkedIn, Lynda is one of the trusted names when we talk about learning through online interactive video tutorials from industry leading experts. They give online training almost in all verticals including the subject of this post, i.e., Programming skills, website development, and mobile application development. They not only help the individual to learn but also offer cheaper and flexible memberships for school, business, and other organization. As for the programming and software development, they have more than 1000 of courses to choose from. Click below to browse through their courses.
6. Pluralsight
Pluralsight has industry best learning courses when it comes to website development, IT security, and design courses. It has plenty of interactive video courses for a programming language like NodeJs, Java, C#, JavaScript, Angular, React, Python, PHP, etc. You can choose website development and mobile development courses from a lot of available options. If you want to pursue a career in design such as game design, graphic design, 3D design, then you can choose courses from industry experts available on Pluralsight. They are best known to provide courses for the latest technology and modern programming languages.
7. Skillshare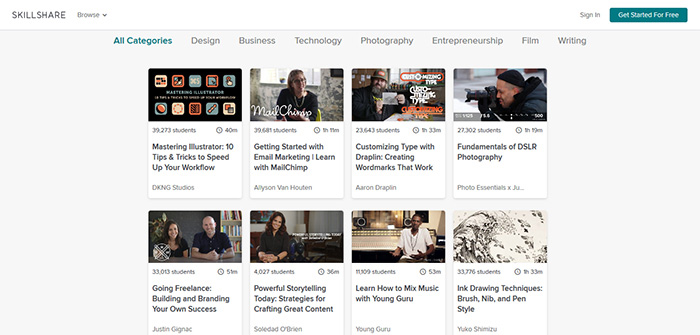 Skillshare is another popular name in the e-learning industry, and it has more than 2 million students with over 15000 courses. They provide universal access to high-quality learning courses that empower people to advance their careers and pursue the work they love. They have projects associated with the coding classes which allow students to get feedback and learn together with showing progress to other students as well. They have a free month to try any course, and you can join their premium plan anytime to continue further. They have Android and IOS App as well, so you can access the classes from the comfort of a mobile phone also. Check their programming courses.
8. Codecademy
Codecademy is one of a well-known name when it's come to learn the coding skills to become a full stack developer or mobile application developer. They have courses on Rails, JavaScript, AngularJS, ReactJS, Java, SQL, HTML, CSS, and Responsive design. Though they are a popular name, their community seems to be less active. Their discussion form is not active that much. Their last blog post was updated in October 2016. So I have little doubt if they are still that much active. Also, I could not find much more information on their website.
9. Udacity
Udacity has online courses which have been created with the help of world's best technology companies like Google, Facebook, Amazon, IBM, AT&T, and Github. They have mostly technology and programming related courses. They provide their courses under 2 terminology – one is known as the 'Nanodegree' and second is 'Free courses'. Their Nanodegree courses are complete job oriented courses which can place you in the world's top tech company like google, Facebook, and Amazon. It covers most in-demand technology which allows you to build and design projects from your learned skillsets. They also provide a certificate on completion of course. You can learn these online courses at your own pace, at your convenience or schedule. The instructors give you detailed feedback on your projects so that you can improve it to match world-class coding skills. You can interact directly with the instructors, mentors or coaches. They also help you to create a good resume and online portfolio with personal advice so that you can successfully search jobs. However, the costing of their Nanodegree courses is very high, and if you lack money, then it's better to choose their free courses.
10. ShawAcademy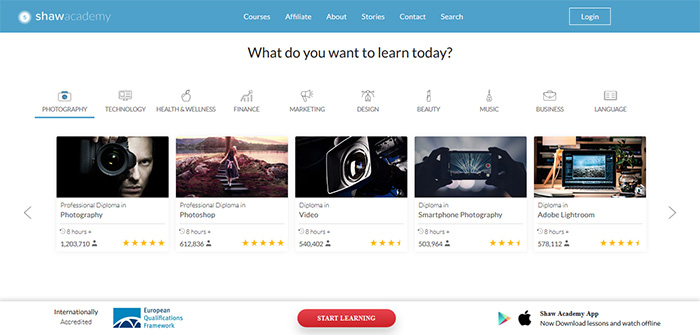 Shawacademy is one of the leading names in the e-learning industry. It has a good collection of online courses in all fields including technology. They offer a free trial, and their regular price is affordable. Some of their courses are approved internationally, like from ACCA, CPAA, CII, and CPD. Some of their programming courses include Web development, Mobile Application development, and Graphic design.
11. CodeAvengers
CodeAvengers is a fantastic online learning platform for programmers, software developers, and designer. They have a team from school teachers, academics, designers, software developer and people from an educational background who provides awesome online coding experience. They organize coding camps in which they teach basic coding and problem-solving skills. They also provide class training in several school and universities. Some of their popular coding classes are Python, HTML/CSS, JavaScript, game design and web development. You can try their 7 days trial with 5 lessons in any course, after ending of the trial period you can upgrade the account anytime with unlimited access.
12. Sitepoint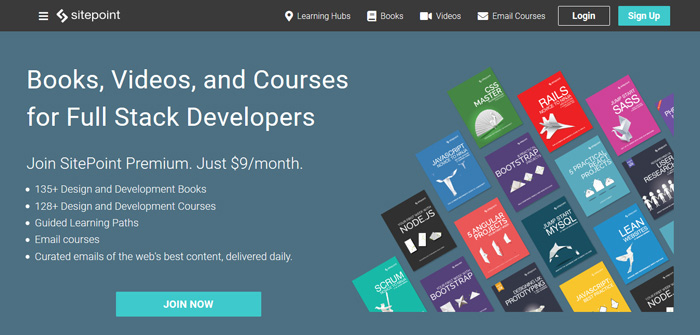 Sitepoint is a very active community of developers and designers. It offers a lot of high-quality video courses which you can use to learn coding skills that are currently in demand. They cover most used programming languages and most difficult skills to ensure that you get placed to a company after completing their online courses. They have lots of free written tutorials as well which is updated and added by a real master of the subject. You can choose courses for AngularJS, RaectJS, WordPress, PHP, JavaScript, Website development, design, and many other high demanding courses. Currently, they are offering free trial classes so that you can try before paying for them.
13. CodeHS
CodeHS helps the school to teach coding skills and computer science to their student differently and interactively. They have created an entire curriculum which includes programming skill like JavaScript, Python, and PHP. They have courses base on different grade. You can register to their website through your school. But if you are an individual and want to take their course, they offer you paid interactive video courses. Their methodology is read, write and code. They provide curriculum, tools, and resources to schools, teachers, and students.
14. Khan Academy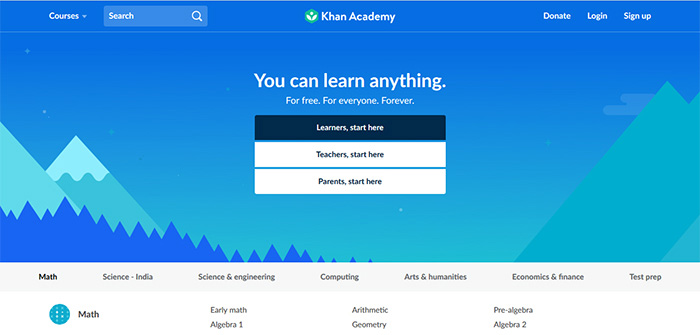 Unlike all others, Khan Academy is completely free, and it has a lot of good courses for learning coding skills. They provide instructional videos, practice exercises and awesome tools with nice features to study at their own pace. They have a lot of volunteers who help them to make good learning material for their students. Learn JavaScript, HTML/CSS and Query language from their website.
15. Skill Crush
Skillcrush is one of the famous online learning destinations for beginners and job seekers in the IT industry. It organizes free bootcamp on coding classes frequently. They have a complete blueprint of making a career in the IT industry by learning coding skills through their online program. They are a team of all women who teaches you most demanding online programming courses. After completing their courses, you can get a job as a front-end developer, backend developer or full stack developer.
16. tutsPlus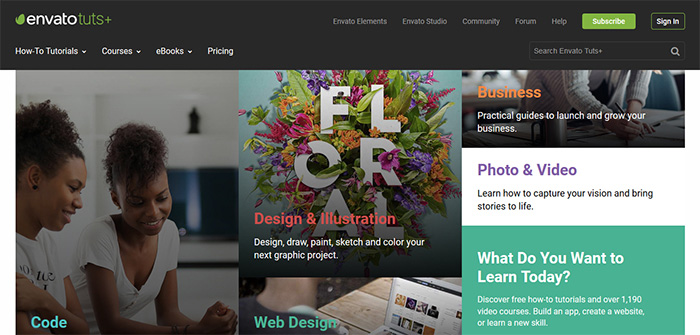 Tutsplus is part of Envato, which is a network of the marketplace that sells digital products and services. Tutsplus provide many online courses through interactive video tutorials from its platform most of them are related to coding classes. The instructor there is a highly skilled professional who has created an awesome video tutorial to teach you coding skills. You learn in your comfort zone whenever wherever you want. They also have a lot of free written tutorials which you can read to enhance your knowledge. Their video courses have ten days free trial after that you can have 3 different plan available to choose so that you can continue learning.
17. mijingo
Mijingo is a website for learning website development and design. They have plenty of free courses and fixed price courses which you can learn by watching videos divided into small intervals. They provide courses mainly in three main categories, development, design and content management systems. You can stream the videos from any of your, or you can download it to watch when you are offline. Some courses also have additional materials, like PDF books, slides, recorded discussions, and working code examples. The price is fixed but available in 3 modes, for individuals, small groups and company.
18. Laracasts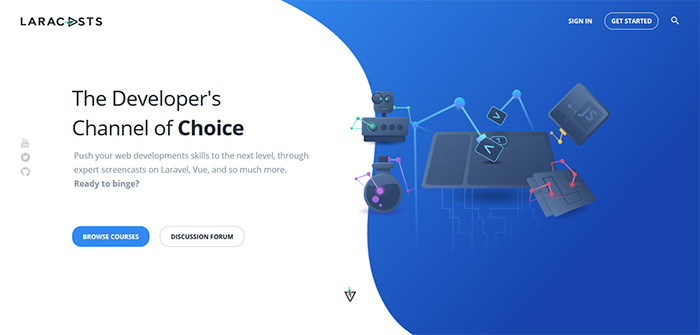 Laracasts is one of the best and modern platforms for learning website development by using PHP, HTML, CSS, and JavaScript. It is made by the creator of 'Laravel' which is a very popular full-stack framework for PHP developers. Though laracasts is limited to PHP and JavaScript, the quality of video courses and screen-cast is very high and interactive when compared to any other website. They teach you a modern way of coding and use the latest features in the latest version of programming languages. They also frequently update their courses so that they can always produce the best and latest in the industry. One of the key thing about the laracasts is their community. You can ask any question in their excellent forum, and you will get lots of great responses. If you are planning to learn PHP or JavaScript, then it is one of the recommended websites to start with.
19. CodeSchool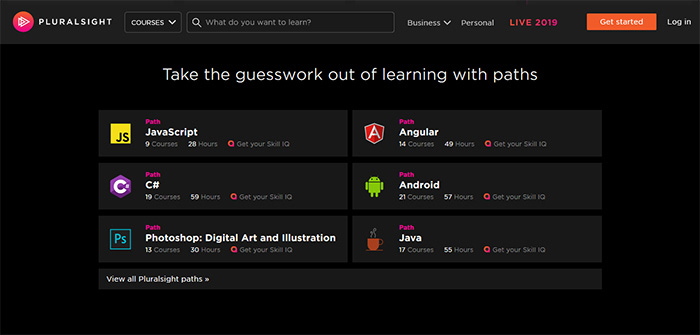 Code School is a part of Pluralsight Company (mentioned above in this post), but only focused on teaching coding skills. It is an online learning website for aspiring or experienced developers that teaches interactively. Their approach to teaching is somewhat different from other websites. It feels like you are playing a game with their creative theme and storyline around each course. They have more than 60 courses covering Ruby, Python, HTML, CSS, JavaScript, .NET, iOS, Android and many more. They have quality instructors with high-quality content in their course. You can make free accounts but to take a course, projects or screencast you have to upgrade your account to their monthly or yearly packages. You can cancel the course at any time.
20. YouTube

Well, this is not exactly a place to find the best online programming courses, but it has proven to be pretty awesome when it comes to FREE and good quality video tutorials for learning certain set of coding skills.
Best Online Programming Courses 2020 – Conclusion
Well, these are some most common and popular name in the online learning industry, and they have high standard courses which can teach you the skills required in website development, mobile application development, and game design. Look carefully before joining and read the reviews. Try the free trial or learn the free available courses first before paying for the whole or advance learning. If you have already taken classes with them, then do share your thoughts below in the comments section or on social media.