A well assembled, highly configured machine, with latest technology, at the least price, with the best speed and a cool looking design … is a dream for any Geek or anyone who has to sit in front of a desktop (even laptops) all day to get their work done. You have so many choices now a days with regards to different platforms, different brands, diverse features with unique appeal to it. To custom build a PC or a Desktop is like putting together a cool car with your own hands, metaphorically speaking of course 🙂
Intel and AMD with their processors, NVIDIA and ATI with their graphic cards, multiple options in the RAM and memory department … amazing looking screens / monitors and awesome accessories including keyboards and mouse…. all of these now have specific configuration, speed, design and more … for very specific purposes like gaming, designing, coding, multi-processing, multimedia etc.
So for people who live in India, the below listed sites will give you that option to get the information, somewhat not the best accurate information but at least an approximate idea of what components are available in the market and at what price… and when they want to configure any computer system for their needs, how much will it cost with a ballpark estimate.
I am sure this will not exactly give you guys the perfect solution to your problem… but will definitely give you some sense of confidence to choose the right peripherals and accessories for your new PC or old outdated computer.
Have fun !!!
1. PriceGuide.in
Build a PC is an online tool provided by Price Guide which lets you build a PC of your choice. It can be used to build an office PC or to build a gaming rig.
What I like most about this online tool is that it provides the widest range and huge variety of products… AND… it only shows you the compatible components based in your previous field choices, like when you choose the processor, based on the choice you made the motherboard field values change.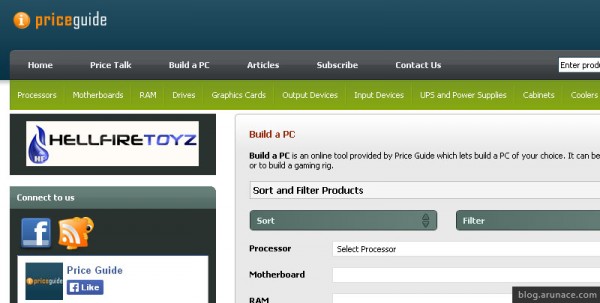 2. AssembleYourPC.net
Here we have a PC builder tool that helps you select the right components for your Desktop Computer/ PC, whether you're building a Gaming PC or a general purpose computer, it can help you pick the best parts that fits right in your budget.
Firstly you select processor than motherboard than RAM and so on, and on the left of the web page it tells the price of the items you selected.
And the best part about this site is that it shows the actual market price on the major e-commerce websites like Flipkart & Snapdeal. So when done with the configuration, you can just order all these parts and get what you wanted 😀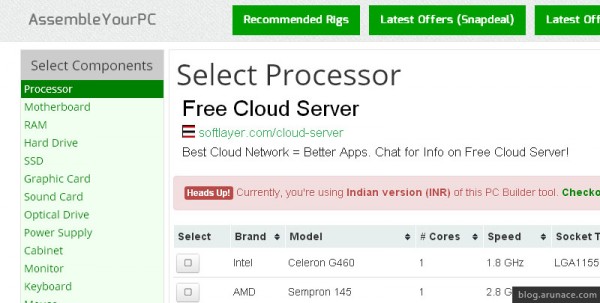 3. NehruPlaceOnline.com
So it's like any other basic form based interface for choosing the hardware options in each category like the motherboard, RAM, Processor and so on.
Visit NehruPlaceOnline.com
4. PCCostCalculator.com
This is another option you guys could try… not so great from a UI point of view… but may help you out in finding the right pricing for the components.
Few of the brands are not listed in the options but most of the major ones are there, at least you can choose among them to get an idea 🙂 And the same component options to choose from Motherboard, CPU, Cabinet, Monitor, Memory, HDD, DVD Drive, Keyboard but no Mouse 😛
Actually there are so many International sites which have a way better database & features but then I just wanted to check out the Indian versions of the same, because I would be interested to know the cost of the parts in Indian Rupees and not in Dollars or Pounds or Yen 😛

Now the next 3 links which I've listed down is not exactly sites which lets you configure or assemble the parts online for your custom PC but actually helps you to understand what you should know before or while doing just that. These 3 tutorials or suggestions will definitely help you to get a much better result when using the above sites for assembling or building your gaming rig or an awesome looking personal computer or just plain workstation machine.
So I do urge you to go through these as well and I'm sure there are more similar blogs / articles which can be better than this… so do not hesitate to share the links in the comments below 🙂
TIPS TO KNOW BEFORE ASSEMBLING YOUR PC
1. PC Assembling Guide

[ URL: IndianExpress.com ]
It's extremely important to know which type of hardware or what brands are you using for your PC assembling, what part is compatible with which motherboard or what processor is best for gaming and which is the most awesome but less expensive way to get a configuration for your PC and much more… so to understand these kind of basic details, please go through this link. Pretty well written and simple to understand.
2. 10 Things you should do when building a new PC
[ URL: TechRepublic.com ]
This link tells you about what you should do while building a new PC for yourself, with some of the most basic but important tips which will definitely help you out.
The best part is … it's not long or overly complicated, it just lists down 10 straight forward points, so do check them out 🙂
3. How to Assemble a PC

[ URL: WikiHow.com ]
You all know what WikiHow is for… so it does provide a very nice and simple 12 step tutorial with tips to assemble the parts for a customized desktop computer.
4. How to Build a PC

[ URL: GamingTub.com ]
If you wish to get some more perspective or need a better guide on how to choose from a confusing list of computer peripherals, then try and check out this blog article which I found quite helpful, especially for a novice.